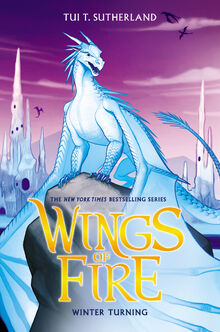 Winter has been a disappointment to his royal IceWing family his entire life. When his sister, Icicle, runs away from Jade Mountain Academy, fleeing terrible crimes and possibly planning to commit more, Winter knows that they need a second chance to make things right — if only he can find her.
Winter's new clawmates, Moon, Qibli, and Kinkajou, won't let him make this dangerous journey alone. They don't seem to understand that IceWings, the most superior of all dragon tribes, can fix their own problems. When their search leads the dragonets straight into Queen Scarlet's vicious talons, Winter is grateful to have some help. But even the bravest dragons can't follow him to the Ice Kingdom, where he'll have to face the greatest threat of all: his own family.
Prologue: Hailstorm
Protagonist: Winter
Epilogue: Darkstalker 
Publication Date
Edit
 June 30, 2015
Ad blocker interference detected!
Wikia is a free-to-use site that makes money from advertising. We have a modified experience for viewers using ad blockers

Wikia is not accessible if you've made further modifications. Remove the custom ad blocker rule(s) and the page will load as expected.