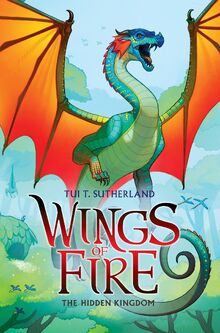 Glory knows the dragon world is wrong about her tribe. After all, she isn't "as lazy as a RainWing" — she isn't lazy at all! Maybe she wasn't meant to be one of the dragonets of destiny, as the older dragons constantly remind her, but Glory is sharp and her venom is deadly . . . except, of course, no one knows it.
When the dragonets seek shelter in the rainforest, Glory is devastated to find that the treetops are full of RainWings that no dragon could call deadly. They nap all day and know nothing of the rest of Pyrrhia. Worst of all, they don't realize — or care — that RainWings are going missing from their beautiful forest. But Glory and the dragonets are determined to find the missing dragons, even if it drags the peaceful RainWings kingdom where it never wanted to be — into the middle of the war.
Prologue: Nautilus
Protagonist: Glory
Epilogue: Fatespeaker 
Publication Date
Edit
May 28, 2013
Ad blocker interference detected!
Wikia is a free-to-use site that makes money from advertising. We have a modified experience for viewers using ad blockers

Wikia is not accessible if you've made further modifications. Remove the custom ad blocker rule(s) and the page will load as expected.